Awards
Altalena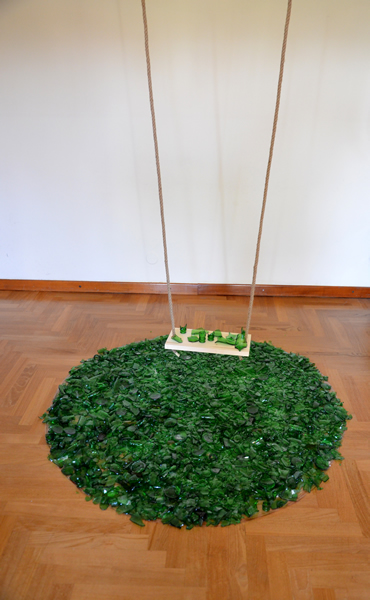 Gioia Aloisi and Monica Gorini

Swing? NO!
The work was created by Visions of yesterday, today. we ask of you as an ideal
partner:
Do you remember the jump from the swing? That leap that brought you up,
higher and higher, and in the fall to the ground pushing your breath more
cheerful in the heart?"
Instead you remember when
The children had their hands on the eyes and not heard rumors that without
sound.
Those hands dug routes glazing between the stones and the memories and
lightning from heaven shone all the earth.
From the hole, hiding the bodies in the dark, just sticking the image of the
seesaw rocking hung between the branches of the tree of the garden.
Out there everything was prey. A thrill of cruelty scratched the seat of the swing:
pile of broken glass. Impossible to sit. Even on dreams.
Children ...? Their approach them quietly, prey of all, corroded in the meadows
by bombs.
Sons of no one and no right for them. Children of all.
How do you imagine the swing?
Green glasses in a circle, waiting for a miracle from dark to light.
we are like a thousand unbelievers Witnesses denial of rights, looking for a
flight in space without falling on the windows,
We create this installation, this swing hanging in nothing to shout quietly:
Do not kill the children!"

Right to game, Right to life : Convention on the Rights of the Child . Art
from 31 to 40.

Gioia Aloisi e Monica Gorini

Technique and materials: glass, strings, spruce wood, sheets of paper with
the Convention of the Rights under the windows.
variable dimensions h (2mt up) width 1.50 m to 2.50 m breadth of the
circle with glasses.